Meat the needs of large-sized meat and poultry processors, our tumbler MACHINE Series industrial capacity, stainless steel vacuum tumblers deliver improved product quality. Vacuum tumbling is a method of marinating meat, poultry and seafood and is designed to provide ready-to-cook, value-added products.

Vacuum tumblers are designed to improve vividness of the muscles, meat elements, small meat pieces, chicken bodily sizes and elements in the vacuum environment. Without vacuum tumbling for 20 minutes, marinating requires 24 to 48 hours of soaking before the product is ready for loading into the smokehouse.

Meat is weighed into batches and cured by injection, tumbling and massaging to produce the flavour, texture and meat content agreed by the customer.
The meat tumbler machine could be with touch screen so on ,and also could be with inner mirror surface.

The function of this tumbler chicken machine is tumbling all kinds of meat and ingredients under vacuum atmosphere. And also to have the function of repeat evacuation and inflation, which is call the pulmonary respiration, so that the meat can maximize the absorption of ingredients and keep freshness without changing the color.

This machine add a grip material device, thereby greatly improving the efficiency and reduce labor intensity.

The operation mode of the machine is the rotation of the tumbling box, air exhaust and inflation adopt the intermittent. According to the needs of production technology you can choose a different tumbling stop time and inflation time; operation time relay can set the total operation time .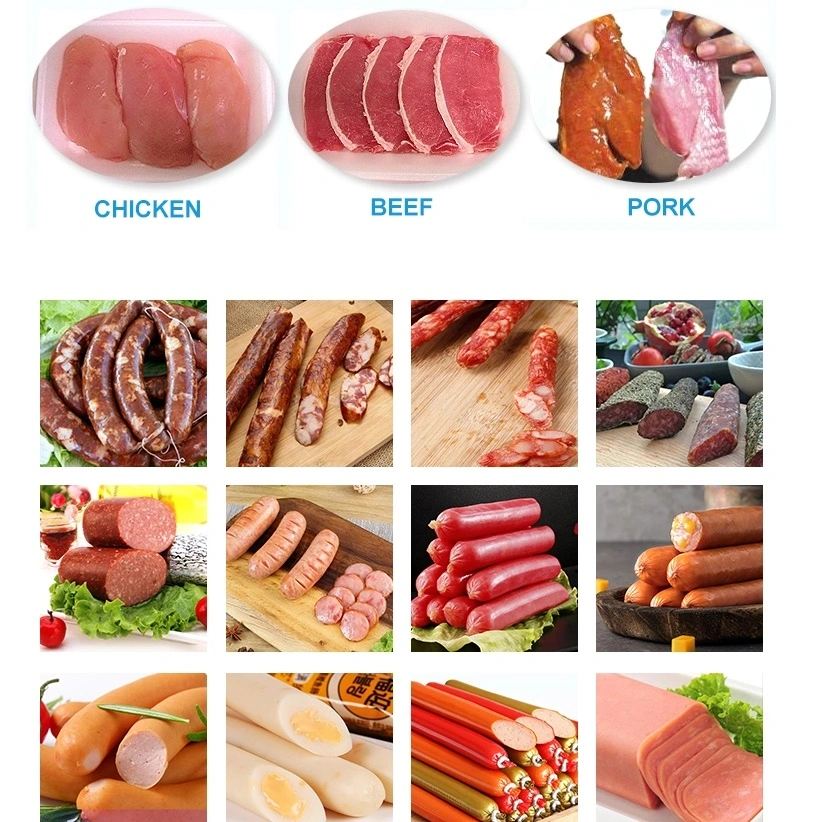 Advantages:
Paddle could be differ based on differ meat and size .




Model

Capacity




(Kg/Time)

CylinderVolume (L)

Power




(KW)

Cylinder




Speed (r/min)

Vacuum Level




(Mpa)

Voltage (V)

Weight




(Kg)

Dimensions




(mm)

G250

100

250

1.65

7

-0.085

380

379

1300*1230*1515

G500

250

500

1.65

7

-0.085

380

380

1710*1152*1214

G1000

500

1000

3.3

7

-0.085

380

788

1975*1515*1810

G1600

800

16

0

0

4.5

8.9/18

-0.085

380

833

2080*1620*1880

G2000

1000

2000

6.4

6

-0.085

380

1294

2110*1770*2010

G3000

1500

3000

7.7

3

-0.085

380

-

2350*1910*2210

G4000

2000

4000

9

2

-0.085

380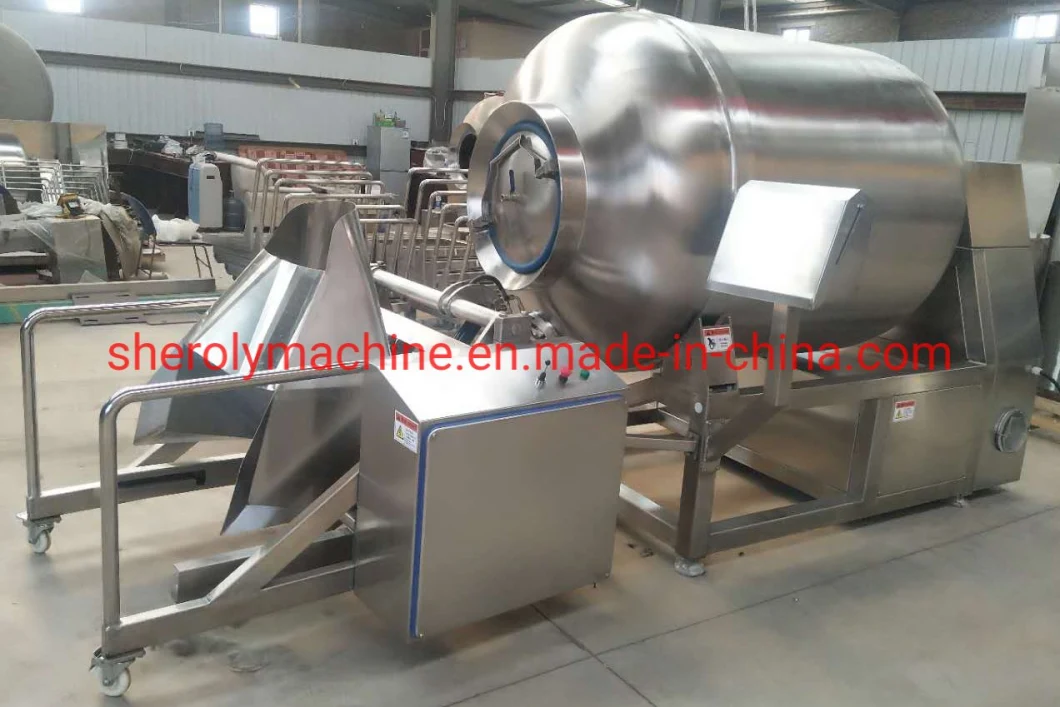 Tumbler with lefter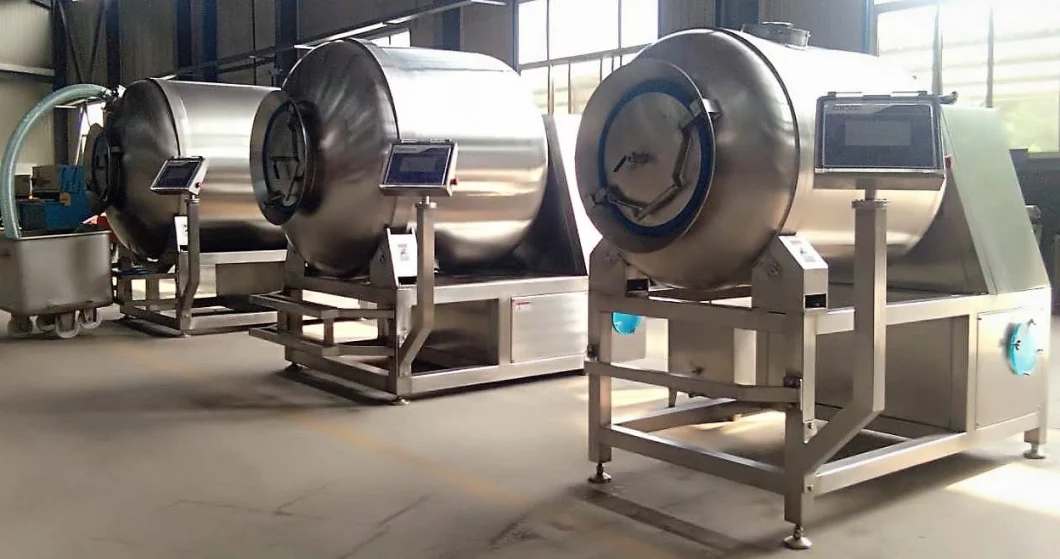 tumbler with touch screen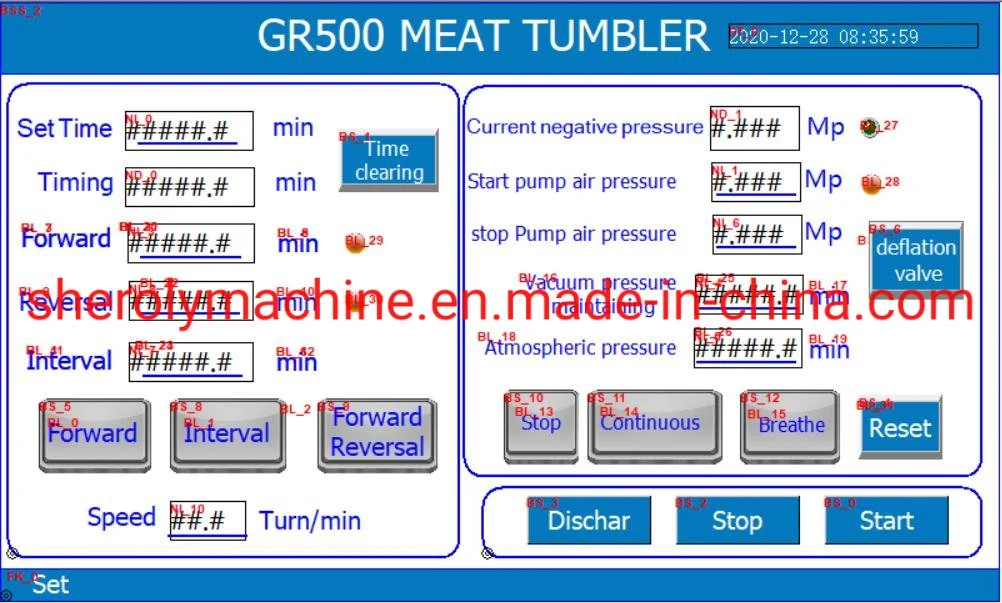 tumbler control page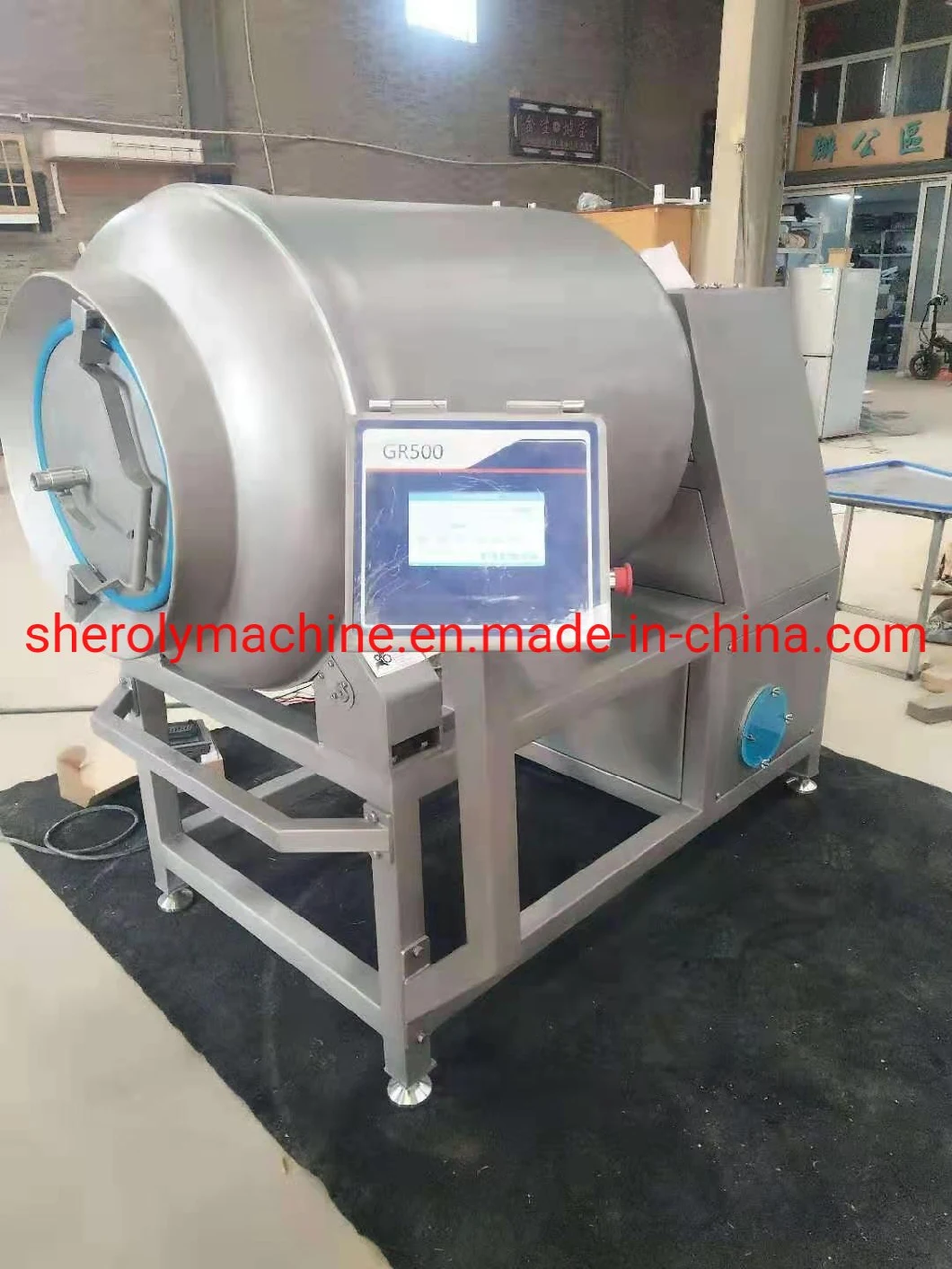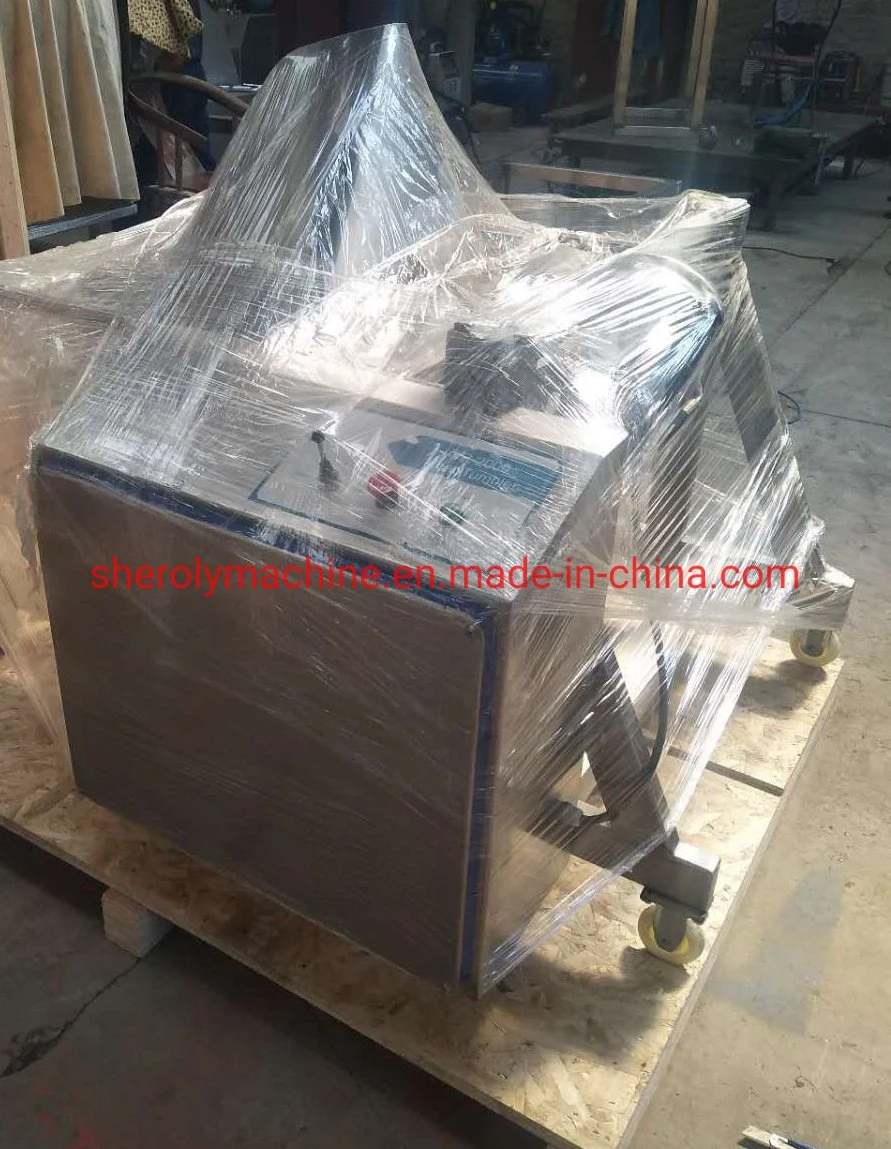 The lefter for vacuum meat tumbling machine as need .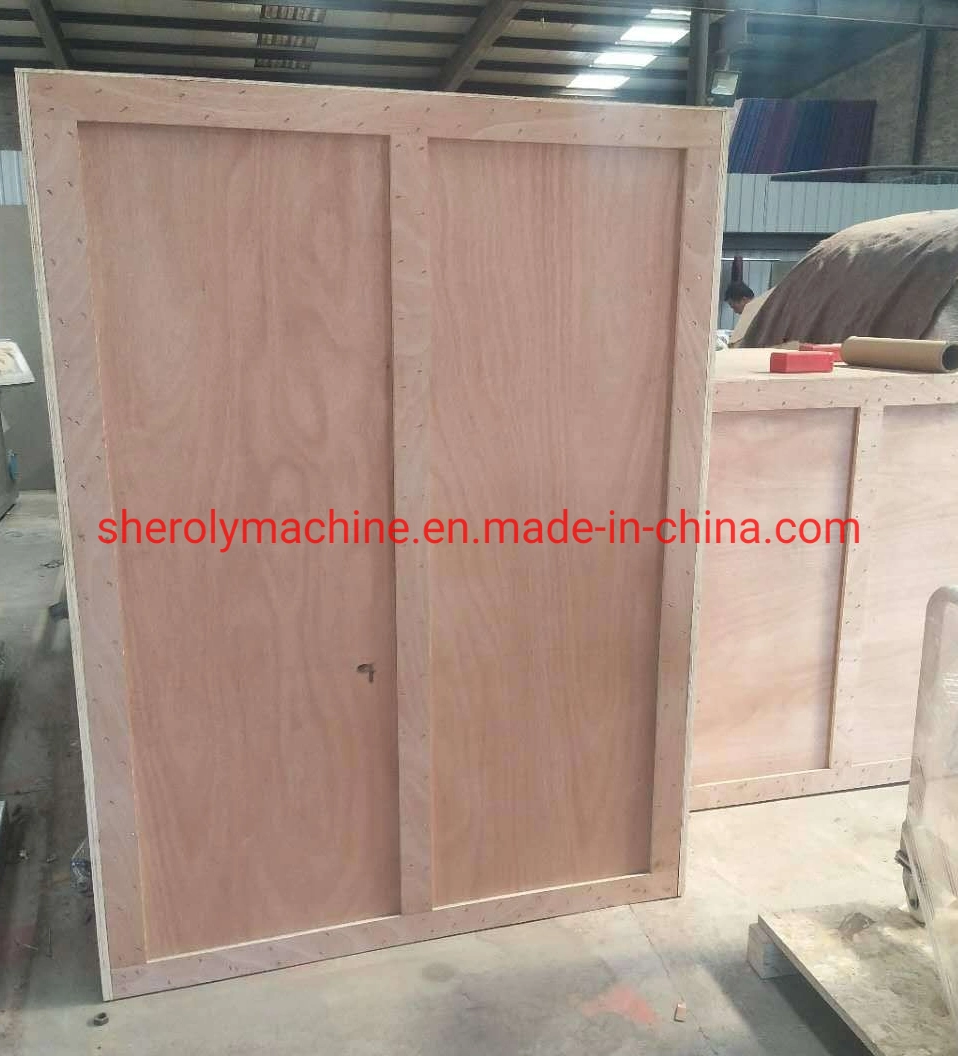 package our Services
1)Design and manufacture the equipment
2)inspect and running all machine before dispatch.
3)Engineers avaliable to service machinery overseas.
4)one year quality guarantee.
5)24 hours technical support by e-mail.
6)English or need language software,user manual.
7)whether you need one machine or a complete line,we design and build machinery that delivers the most
reliable and effcient performance for your products.
FAQ:1)Question :what is the choice of installation mode for foreign customers?
Answer:we can provinde the video and user manual of the installation mode,
if your need us to send someone to install it,we can provide it .
2)Do your supply factory visits?
Answer:We welcome the customer to visit us,your can make an appointment with us in advance.
3)Question:our the comapny is a direct manufacturer or trading company.
Answer:our company is a direct manufacturer,No middleman make the difference.we can provide your with
best quality product at the right price.
4)What is the payment term?
Answer:we support T/T,L/C.
5)Question:How do we choose the right model for us?
Answer:When you tell me your demand,we will help yourr to choose the right model.


Mrs ivy