Gas shawarma machine, electric shawarma machine, shawarma machine, kitchen equipment
1. Strong stainless steel body.
2. Gas models and electric models are available.
3. High quality ceramic burner with high efficiency(gas model).
4. Gas valves are equipped with sadety vents.
5. Moving body(burners come close to Doner meat).
6. High-performance motor bring uniform baking.
7. Hygiene, safe and long lasting.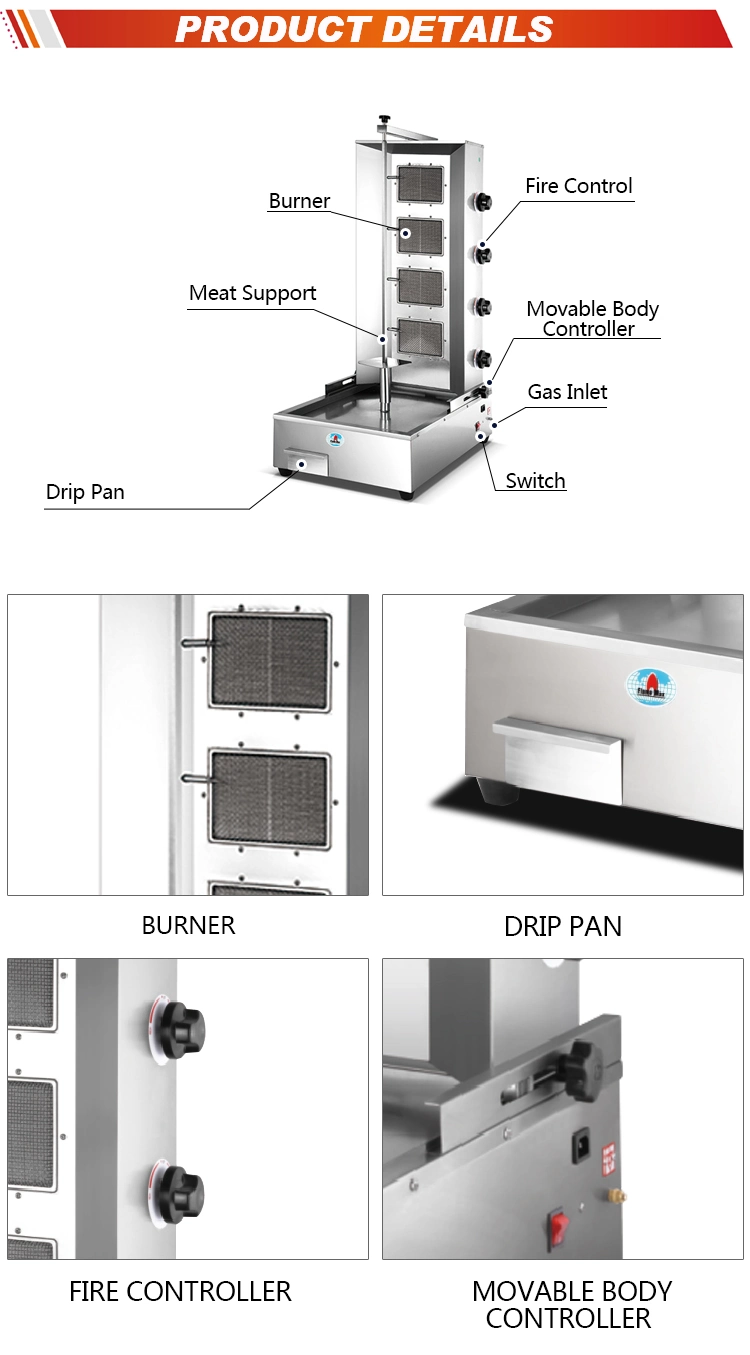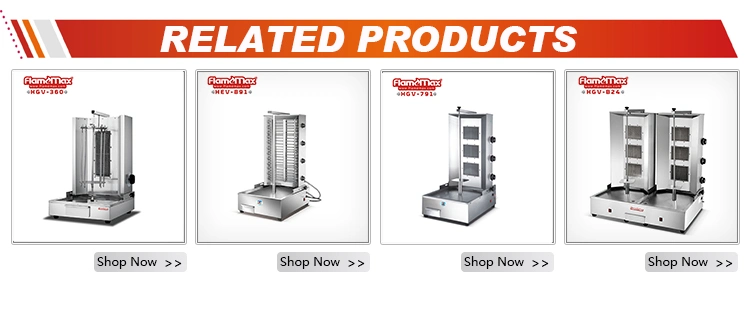 Item No.
Description
product dimension
power
voltage/ freauency
remarks
volume
net weight (kgs)
(mm)
(kw)
(v/hz)
(cbm)
HGV-790
gas shawarma machine(2-burner)
500×650×900
0.05
220/50
heat flux(kw/h):9
0.480
36
HGV-791
gas shawarma machine(3-burner)
500×650×1050
0.05
220/50
heat flux(kw/h):13.5
0.550
43
HGV-792
gas shawarma machine(4-burner)
500×650×1200
0.05
220/50
heat flux(kw/h):18
0.620
51
EMS-80
electric kekab knife
215×182×142
0.8
HGV-993
gas shawarma machine(4-burner)
550×692×951
0.05
110/220
heat flux(kw/h):13.5
HGV-994
gas shawarma machine(4-burner)
550×692×1121
0.06
110/220
heat flux(kw/h):18
HEV-890
electric shawarma machine
500×650×1050
6
220/50
_
0.480
36
HEV-891
electric shawarma machine
500×650×1050
9
380/50
_
0.550
43
HEV-892
electric shawarma machine
500×650×1200
12
380/50
_
0.620
51
HGV-B24
gas shawarma machine(4-element)
967×670×889
0.1
110/220
heat flux(kw/h):18
HGV-B26
gas shawarma machine(6-element)
967×670×1038
0.1
110/220
heat flux(kw/h):27.5
HGV-B28
gas shawarma machine(8-element)
967×670×1186
0.12
110/220
heat flux(kw/h):36
Company information:
Flamemax Catering Equipment Co., Ltd. Is a professional factory incorporating development and design, there are a batch of advanced production equipment and keen-witted and capable technological team.
With our strong design department, as well as skilled workers, we produce hundreds of catering equipment, food equipment, refrigeration equipment, they include: Cooking range, popcorn machine, cotton candy machine, BBQ /chicken grill, panini machine, fryer, griddle, waffer baker, gas stove, shawarma/kebab machine, pizza oven, convetion oven, food display warmer, bain marie, buffet equipment, ice maker, sushi display, salad showcase, fast food / snake equipment, working table/ sink table, and other customized equipments.
We will compliance with the ISO9001: 2000 International Organization for Standardization unswervingly. We will always merge the environmental idea to our high quality products.
Flamemax not only purchase consumers' good commends from all over seas, also proved its efforts by getting CE certificate, CB certificate, SASO certificate, as well as RoHS and LFGB from authoritative department.
DESIGNER AND ENGINEER--high-tech, tranquil and enjoyable design, novel style, the credible quality is our developing strategic target.
QC--we will not allow any one of the products out without inspecting.
OEM AND ODM--we do best make you sell best.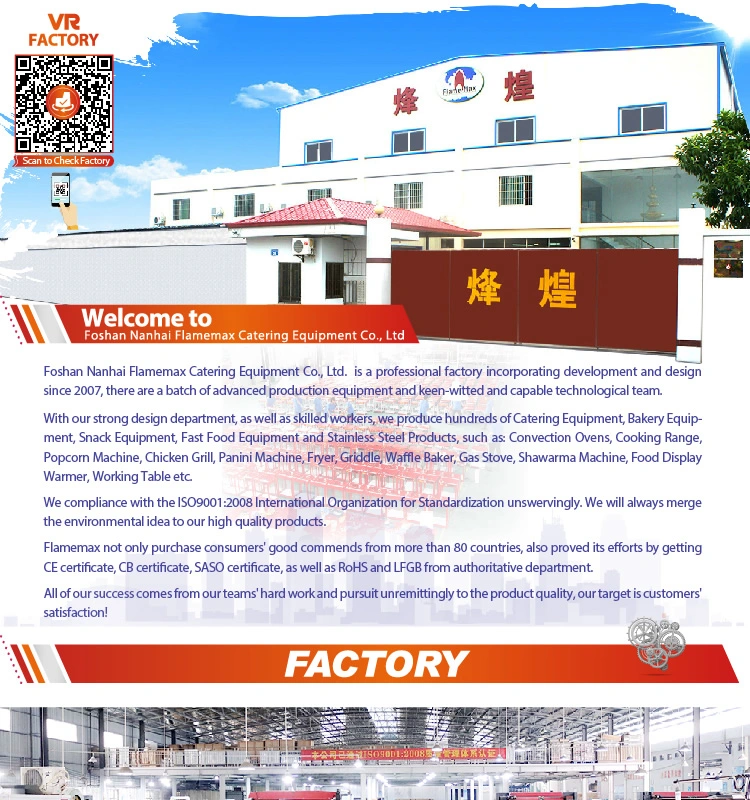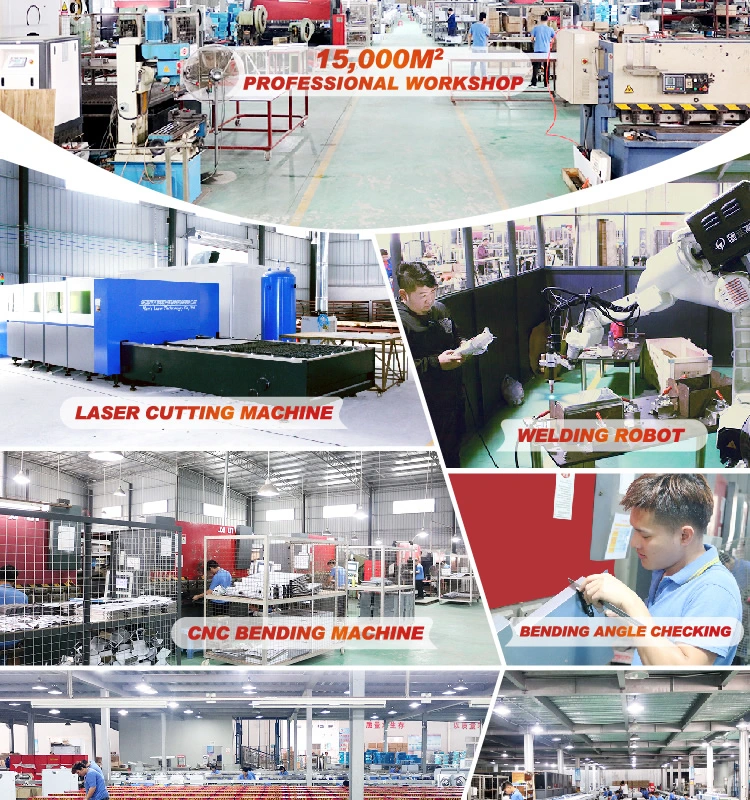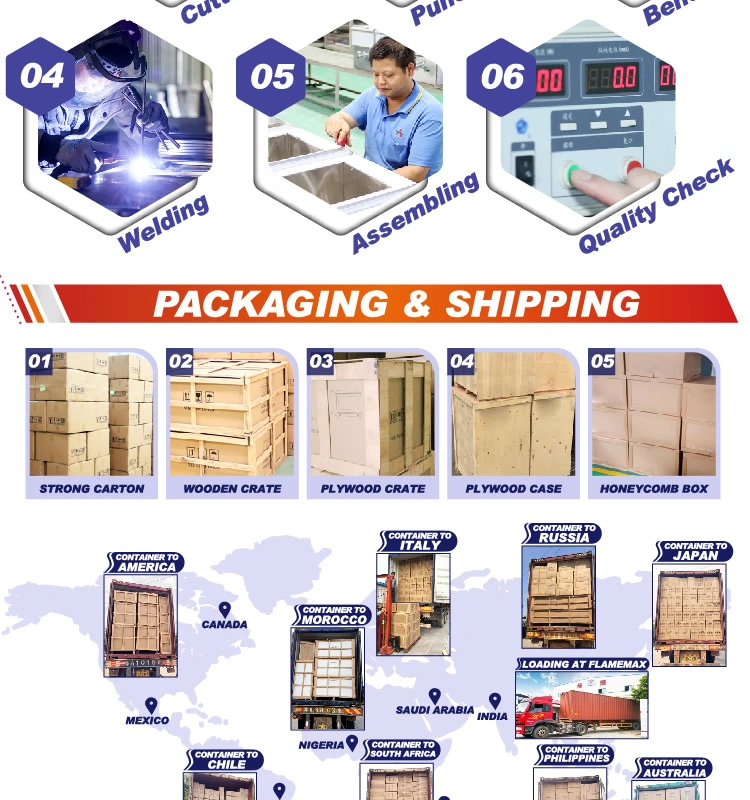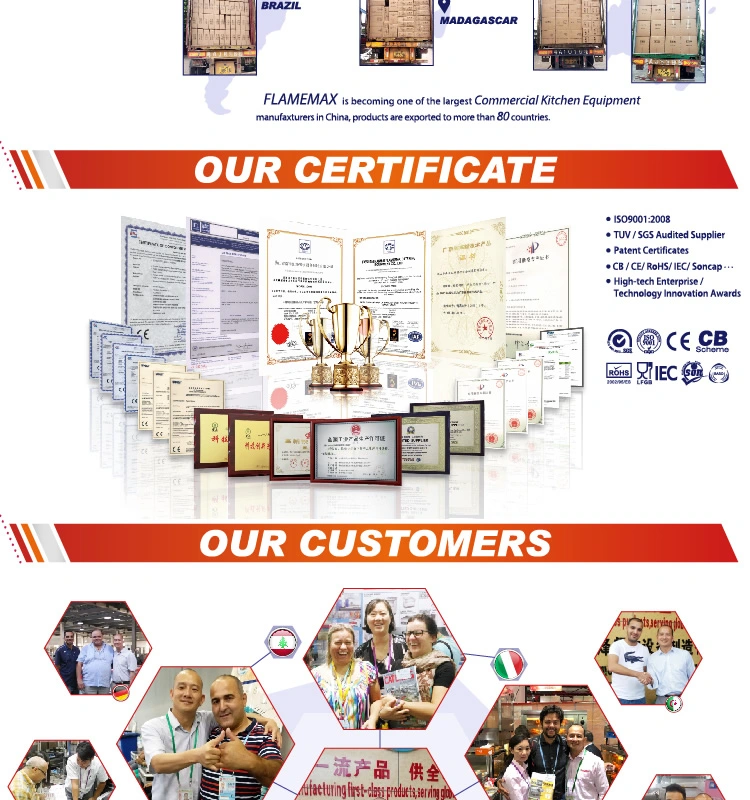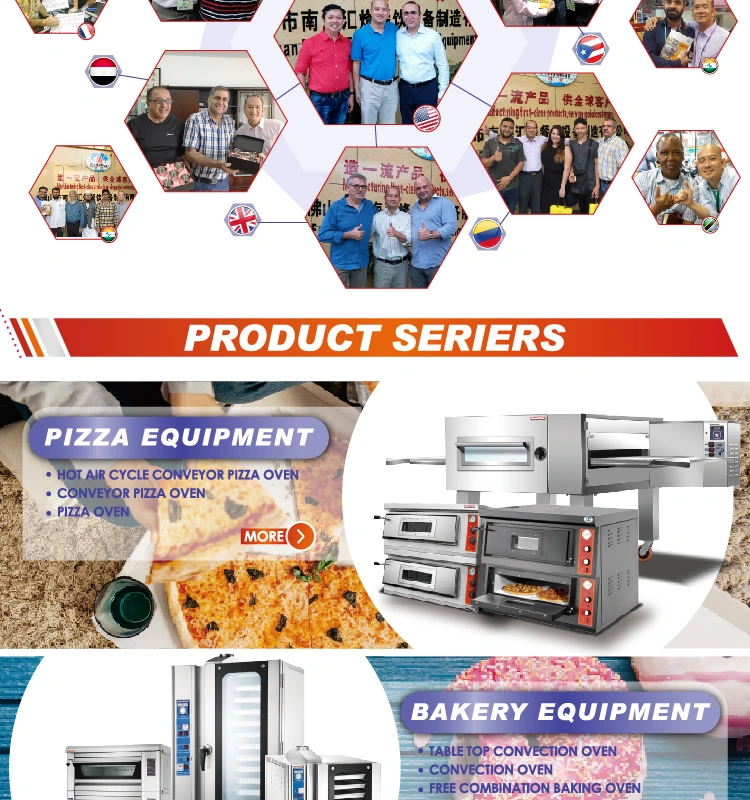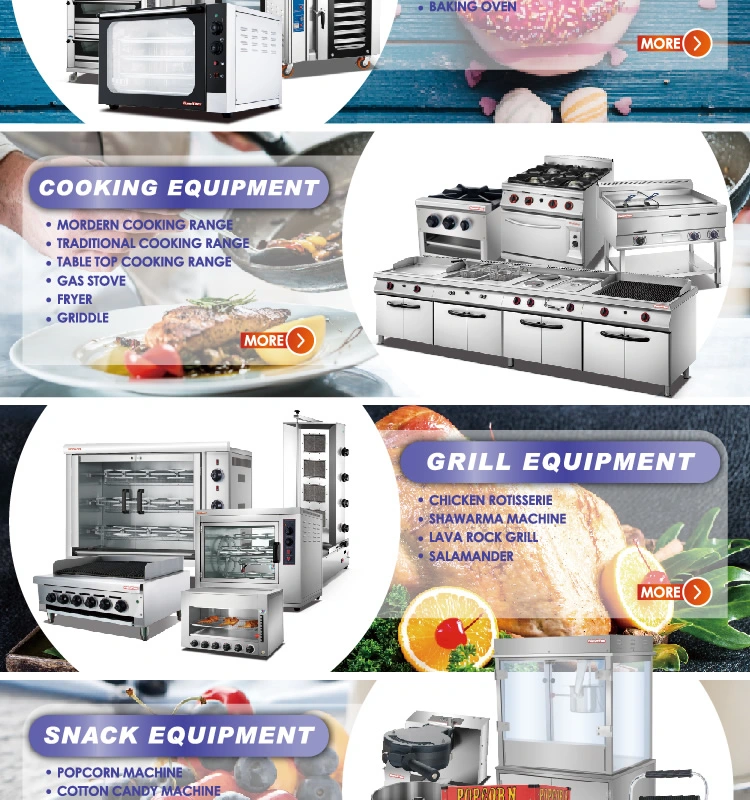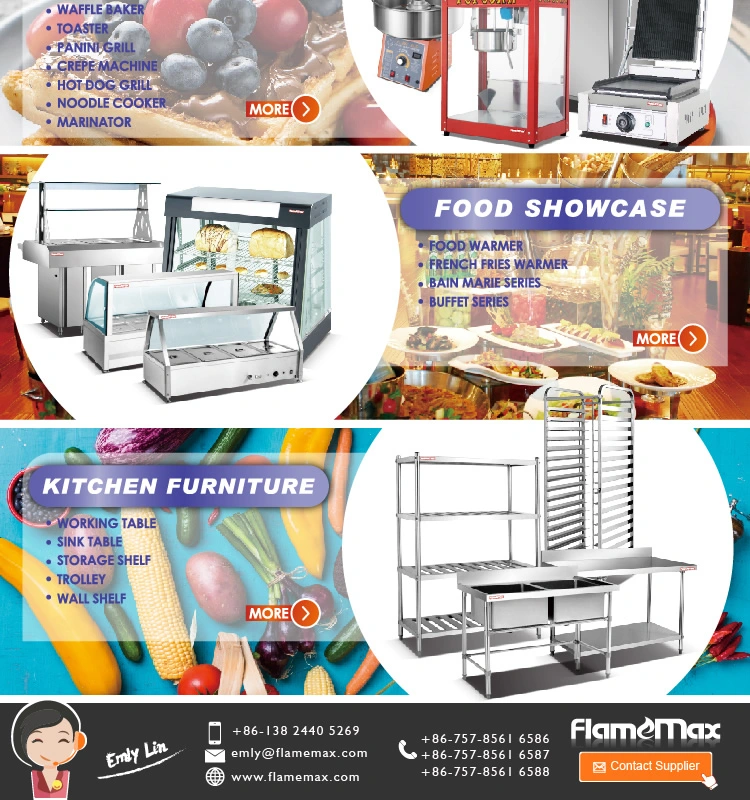 FAQ:
1. MOQ (Minimum Order Quantity)
For trial order, we did not set MOQ, you can order even 1pc or 2pcs to test our quality and design.
2. Delivery Time
Depending on your quantity, for goods we have in stock, Delivery takes 2 days to comply with your request to replace the plug or other configurations.
For Regular order, delivery takes between 25-30 days.
3. Payment Term
30% deposit by T/T payment for start production, 70% by T/T or L/C before delivery.
Small amount by T/T or Western Union are acceptable.
4. Production Capacity
Don't worry about our production capacity; we produce more than 6000 sets of various types of products every month.
5. Free Spare Parts
We offer 3% free spare parts from order quantity for your every order.
6. Warranty
6 months or 1 year depend on different product. Within the warranty period, send us the pictures for the part you need, we will solve for you.
7. Our Address
By Plane: Airport name is Baiyun international airport, in Guangzhou city.
By Subway: You can take the subway Line 6 to XunFengGang station, and get out from Exit B, and we can pick you up there.