Gas Vertical Chicken Rotisserie for 12-24 Chicken HGJ-207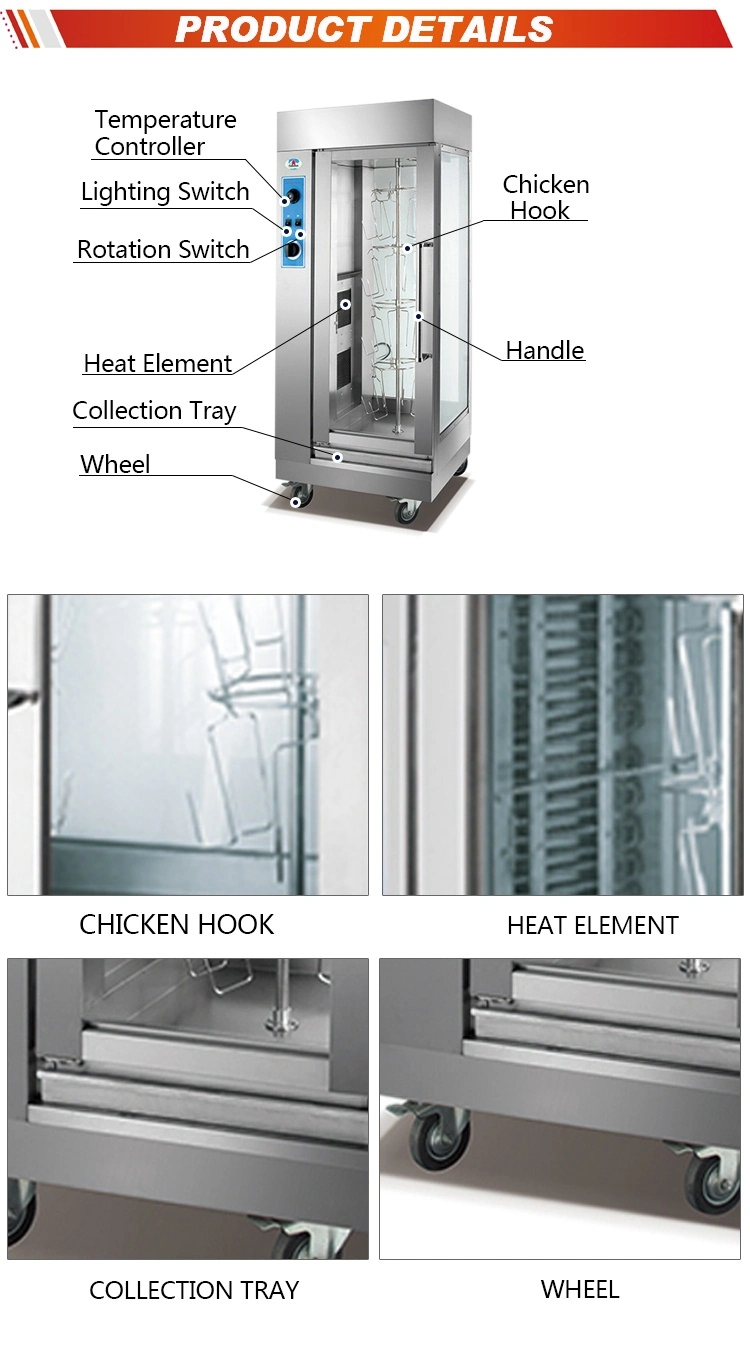 Features of gas vertical chicken rotisserie:
1.Vertical broiler function,high efficient heating element.
2.The process of rotating can be seen at a glance.
3.The machine is made of good quality stainless steel,easy to clean.
4.In accordance with food hygiene regulations.
5.Transparent door and built-in tungsten lamp.
6.Temperature controller is fixed for automatic control of temperature.
7.Easy to operate.
8.Safe & energy-saving.

FLAMEMAX RELATED ITEMS: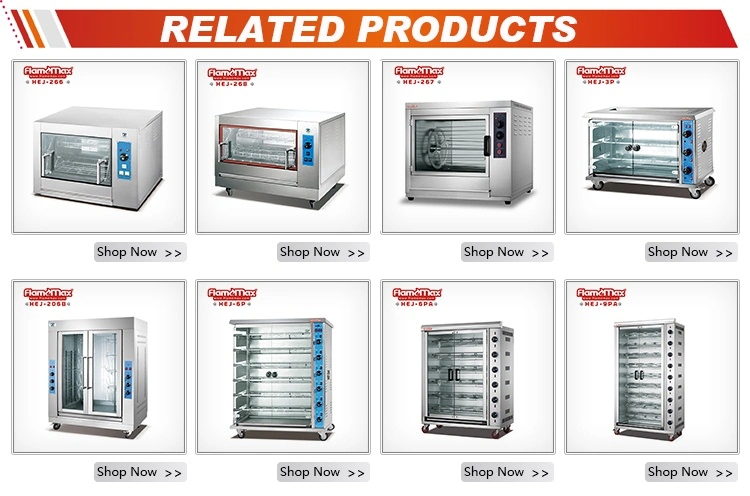 Item No.

Description

Dimension
(MM)
Packing Size
(MM)

Heat Flux (KW/H)

Power (KW)

Voltage/ Frequency (V/Hz)

Remarks

Volume (CBM)

N.W. (KGS)

G.W. (KGS)

HEJ-206

electric vertical rotisserie(single door)

670×550×1580

1130×810×860

_

7

380/50

12 hangers for 12-24 chickens

0.79

80

90

HGJ-207

electric& gas vertical rotisserie(single door)

670×550×1580

800×730×1680

9

0.1

220/50

12 hangers for 12-24 chickens

0.98

80

95

HEJ-206B

electric vertical rotisserie(double door)

1340×550×1580

800×730×1680

_

14

380/50

24 hangers for 24-48 chickens

0.98

80

95

HGJ-207B

electric& gas vertical rotisserie(double door)

1340×550×1580

1460×730×1680

18

0.2

220/50

24 hangers for 24-48 chickens

1.79

100

120

HEJ-3P

electric rotisserie(3-rod)

1180×490×830

1320×670×980

_

6

380/50

3 rods for 12-15 chickens

0.87

77

87

HEJ-6P

electric rotisserie(6-rod)

1180×490×1380

1320×670×1530

_

12.3

380/50

6 rods for 24-30 chickens

1.35

116

126

HEJ-9P

electric rotisserie (9-rod)

1180×490×1880

1300x610x2000

_

18.4

380/50

9 rods for 36-45 chickens

1.59

126

136

HGJ-3P

gas rotisserie(3-rod)

1180×490×830

1320×670×980

10

0.2

220/50

3 rods for 12-15 chickens

0.87

77

87

HGJ-6P

gas rotisserie(6-rod)

1180×490×1380

1320×670×1530

20

0.2

220/50

6 rods for 24-30 chickens

1.35

116

126

HGJ-9P

gas rotisserie(9-rod)

1180×490×1880

1300x610x2000

30

0.4

220/50

9 rods for 36-45 chickens

1.59

126

136
Flamemax Company Information